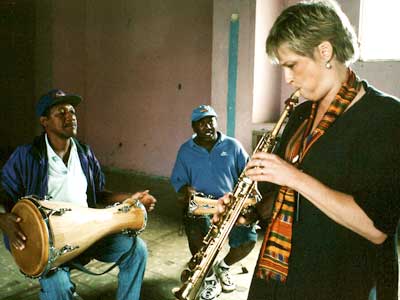 Hailed as one of the finest artists working in modern jazz, soprano sax player and flautist Jane Bunnett has earned a reputation as a brave musical explorer. That adventurous quality shines through in Spirits of Havana, an engaging documentary from the National Film Board of Canada. Through the film, Bunnett realizes a long-standing dream of showcasing the diversity of Cuba's rich musical legacy.
Shot on location in Cuba, the documentary follows Bunnett as she travels across the island with her husband and musical partner, Larry Cramer, seeking out old friendships and creating new ones. "The greatest thing about being a musician," Bunnett says, "is that you get to travel places and quickly establish a rapport with people with whom you might not be able to communicate in any other way."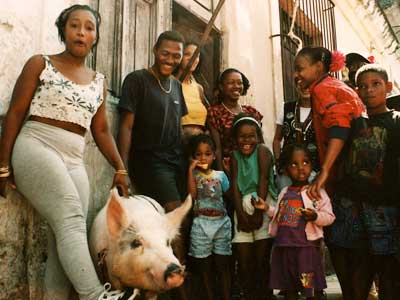 Surrounded by the historic charm of Old Havana, Bunnett and Cramer re-connect with old friends and some of the city's finest musicians, such as singers Bobby Carcasses, Amado Dedeu and Ernesto Gatell, pianist Guillermo Rubalcaba, tres player Papi Oviedo, and percussionists Tata Guines and Pancho Quinto, for a high-powered recording session in the legendary Egrem Studios.
Cameras capture the lively interplay between Canadian and Cuban musicians while glimpses of the pre-Revolution era of Cuban music come through in vintage clips of archival film.
Spirits of Havana gathers momentum as Bunnett and Cramer venture east by bus. Past the swaying palms and sun-baked beauty of the Cuban countryside, the trip takes the pair to Matanzas, Cienfuegos and Camaguey, where Bunnett and Cramer hook up with local musicians and visit music schools to teach jazz and repair broken instruments. Some of the documentary's most moving scenes are those featuring the ecstatic faces of students as they blow their first notes on a repaired flute or trumpet. Global music fans will be captivated by the performances of Los Munequitos de Matanzas, one of the country's oldest and most celebrated Afro-Cuban rumba groups, the legendary "son" orchestra Las Naranjos, and Desandann, a unique, 10-member a cappella choir that sings in Haitian Creole.
"The more we traveled," Bunnett recalls, "the more we found that Cuban music was like a huge river with many tributaries. There's so much variation, from African influences to the European. It sounded old, but at the same time hip and funky. We hadn't heard anything like it."
Spirits of Havana highlights Bunnett's friendship with singer Merceditas Valdes, with whom Bunnett performed and recorded on albums such as Chamolongo. Valdes died in 1996, and in one touching scene, Bunnett places flowers and a special plaque at the singer's grave. "She took my hand and introduced me to the music." says Bunnett, of the legendary performer. "She had a magical quality." So, too, does Bunnett. As Spirits of Havana makes clear, Jane Bunnett bridges two cultures while creating some of the most joyful sounds in jazz.
Produced by the National Film Board of Canada, Spirits was nominated as Best Documentary Film at the 2001 Genie Awards, (Canada's Oscars), and was the official selection for Closing Night Film at the 2001 Hot Docs Canadian International Documentary Festival in Toronto. Spirits had over 15 festival screenings including Montreal, Havana, Chicago, San Francisco, Los Angeles, and the National Gallery of Art in Washington D.C. It also enjoyed a two-week theatrical screening at the Carlton cinema in Toronto. Spirits has been broadcast on CBC and PBS, and the soundtrack to the film, Cuban Odyssey, was nominated for 2004 Grammy Award.
Buy Spirits of Havana from the National Film Board of Canada
"Compelling NFB documentary captures Cuba's musical magic."
- Winnipeg Free Press
"This extraordinary documentary... provides a revealing glimpse of Cuba at the end of the century. Highly recommended."
- Chicago Reader
"Bunnett is a charming, energetic presence. The music, which goes way beyond the Buena Vista basics, is intoxicating. And the filmmakers have done more than simply document het trip. Capturing stray images and moments of haunting beauty, they have conducted their own excursion into Cuba and come up with a quiet revalation."
- Brian D. Johnson, Maclean's Magazine
Running Time: 90:00
Director: Bay Weyman, Luis Garcia
Producer: Peter Starr
Director of Photography: John Westheuser
Editor: Ricardo Acosta
Sound: Todd Fraracci
Production Manager: John McIntyre
Executive Producer: Louise Lore