"a toe-tapping, spiritually uplifting joy from beginning to end."
The Globe and Mail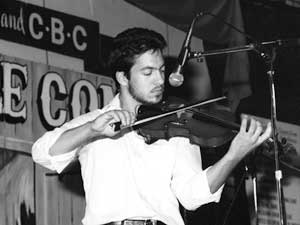 Come one, come all, big and small, to the 38th Annual Canadian Championship Fiddlers Contest.
And in August of every year they do come, from miles around, and from all over the country, to meet and compete, to listen and tap their feet in Shelburne, Ontario – Fiddleville!
Fiddle music is at the heart of country music in Canada, with links to traditional Irish, Scottish, English and French music hundreds of years old. Fiddlevile is about this music and the people who play it. It is also a portrait of small town Ontario, as represented by the people of Shelburne who work behind the scenes to make the contest an annual success.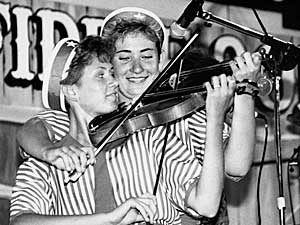 From the Giant fiddle Parade to the Trick Fiddle" Competition, Fiddleville is propelled by the toe-tapping energy of over forty tunes.
Then there's the main event – the Open class, where the best fiddlers in the country vie to see who will be the next Champion.
Will Louis Schryer win his third championship and go down in Fiddleville history? Or will the emerging technique of his brother Pierre Schryer, or the aggressive style of Michelle Lubiniecki sway the judges? Whatever the result, the words of one long-time participant hold true: "Remember, it's not the trophy; it's not winning the prize; it's a whole lifestyle".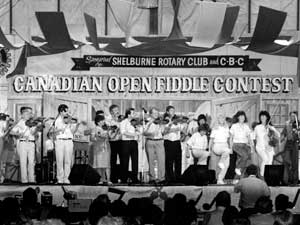 Featuring: Oliver Schroer, Carroll Baker, Gordie Tapp, Ed Gyurki, Harry Brown
Nominated For A Gemini Award:
Best Direction in a Variety or Performing Arts Program.
Producers/Directors: Bay and James Weyman
Director of Photography: Andy Binnington
Editor: Sam Chu
Sound Editor: Robert St. Hillaire
Running Time: 58:30 and 40:20
Produced by Close Up Film Productions Limited in association with the Canadian Broadcasting Corporation and TVOntario with the financial participation of Telefilm Canada and the Ontario Film Development Corporation, 1989.